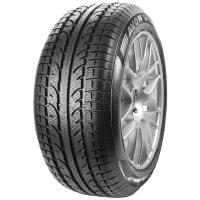 The Avon WV7 is a Ultra High Performance Winter tyre designed to be fitted to Passenger Car
The Avon WV7 is a performance winter tyre, with increased sipe density to improve traction in snow, ice, slush and wet weather. Available in 15 to 18-inch sizes to fit popular performance cars, the Avon WV7 is H and V speed rated. It features forward-facing shoulder grooves and V- slots to enhance braking, while the backward-facing centre groove improves traction. The Avon WV7 is marked with the 'Severe Snow Conditions' three-peak mountain snowflake symbol.
Show All
Tyre review data from 11 tyre reviews averaging 80% over 33,200 miles driven.
Latest Group Test Results
2019 Winter Tyre Test Market Overview - 23rd of 47 tyres
2017 ADAC SUV Winter Tyre Test - 215/65 R16 - 11th of 16 tyres
Positive - Good in the wet.
Negative - Weak on dry, snow covered and icy roads, high wear.
2017 50 Winter Tyre Shoot Out - 26th of 45 tyres
View All Tests >>
Sorry, we don't currently have any label data for the Avon WV7
Sorry, we don't currently have any questions and answers for the Avon WV7. Why not submit a question to our tyre experts using the form below!
Ask a question
We will never publish or share your email address
Top Avon WV7 Review
Given
90%
while driving a
Volvo 2.0 T5 Saloon
(225/45 R17) on
mostly motorways
for 5,000
spirited
miles
I was very surprised at how good these tyres were in the cold wet and snow (snow once for about 20 miles), especially considering that they're classed as mid priced.

I drove from Kent to Glasgow and back once per month throughout the winter and found these tyres to be confidence inspiring in all weathers. I took them off when the weather turned fine again, just to save them for further winters although, I found them to provide excellent feedback and grip in the spring/warmish months too.

I was also surprised at how little they had worn over 5000 miles. They will be good for at least two more winters, maybe more.
Latest Avon WV7 Reviews
Have you driven on the Avon WV7 tyre?
Have YOU got experience with the Avon WV7? Help millions of other tyre buyers
I just recently completed a 4000mile road trip from London (10c) to the Arctic Circle in Swedish Lapland where the coldest reported temperature was -19c. I drove on every possible combination of surface including snow storms, packed ice, freezing rain, deep slush etc...

I was initially very worried that my tyre choice was wrong as I learned of the existence of Nordic Winter Tyres which are supposedly designed for especially harsh winters which European Winter Tyres are not designed for. However my worries were totally unfounded. The Avon VW7 proved itself to be a very capable tyre. There aren't conditions on earth which this tyre can't deal with.

As we drove north the conditions got worse. The rain turned to freezing rain and snow. Eventually we arrived at our destination and spent the next 10 days traversing the cold wilderness in my 300bhp Golf R. I noticed that the majority of cars were running studs however I found grip with the VW7s more than adequate. Even driving on dangerous ice roads I was able to maintain control and make good progress.

High speed handling was also tested on the German Autobahn. We reached the maximum rated tyre speed of 149mph (GPS) indicated. The car remained controlled.

I was stunned at how good these mid range winter tyres are.

My only fault with this tyre is that it can feel quite soft and vague at the front end during the warmer temperatures e.g mild 10c in London. However once you get down to 3-4c the tyre hardens up and feels more controlled.

I also had to do an emergency stop from 130kmh in typical cols winter greasy conditions and the car stopped so quickly I was honestly shocked at the levels of grip and control.

Truly a fantastic tyre.


Given
87%
while driving a
Volvo S90 R Design
(225/55 R17 V) on
mostly country roads
for 7,000
spirited
miles
Really happy with my Avon WV7 winter tyres, have used them for the last two winters and can't finding anything to fault.

I have used winter tyres for years and have owned sets from Goodyear, Vredestiein, Nokian and Avon (ice touring ST's). I can honestly say the Avon's are very underrated and represent superb value for money. Their performance certainly stands shoulder to shoulder with the premium brands.

My present summer tyres are Michelin Primacy 3's and these Avon's offer just as much comfort and steering feedback as the Michelin's. The Avon's perform better on wet roads (and are certainly better at dealing with standing water than the Michelin's) as you would expect from a winter tyre. Where the Avon's really impress however is with their ability on the warmer days of winter (10+ degrees celsius). On these days they perform very much like the Michelin's, certainly the best of any winter tyre I have used to date.

I therefore suspected this may impact on their snow/ice performance but no, they seem to cope admirably in these conditions too. I drive several miles on ungritted (and hilly) rural roads each day and the WV7's are a very balanced tyre. I've never got stuck or felt close to losing control so they have all the winter abilities I require.

Well done Avon.
Given
83%
while driving a
Audi S3
(225/40 R18) on
mostly motorways
for 3,000
average
miles
Using these tyres on a 310bhp Audi S3 so a bit more power than your usual car. So far these tyres have been excellent to say how cheap they were compared to the premium offerings.

Grip in all weather conditions is good, launching the car full throttle traction is acceptable though you can expect some traction control kicking in. Noticed no problems braking and cornering in wet and cold conditions and the car doesn't feel alot different to the summer tyres I had on before (Pirelli P-Zero's)

For the price these are faultless, picked up a set of 4 fully fitted from ATS for ÂŁ310. It would of been closer to ÂŁ500 for a premium set. Would definitely recommend and would buy these again.
Bought these for a Skoda Superb 3.6 V6 4x4 saloon and was sorely disappointed with their inclement weather grip. Comfortable enough to drive on, but traction control comes on a lot with these fitted! Have checked all tyre pressures and driving to the conditions.
Given
93%
while driving a
Hyundai i30
(225/45 R17) on for 2,000 miles
Been driving all over this week in deep snow and ice up steep hills and never let me down