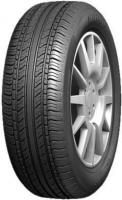 The Jinyu YH12 is a Touring Summer tyre designed to be fitted to Passenger Car
Show All
Tyre review data from 28 tyre reviews averaging 76% over 151,181 miles driven.
Latest Group Test Results
2013 54 Tyre Braking Test - 46th of 54 tyres
View All Tests >>
Sorry, we don't currently have any label data for the Jinyu YH12
Questions and Answers for the Jinyu YH12
2018-04-05 - What does the U11 i& U12 mean on Jinyu Tyres
Do you have an example of this?
---
2019-01-06 - How can I tell if my tyre is a run flat? It is a YH12 on a Mini Cooper.
It will say something like runflat, ROF, ZP on the sidewall.
---
Ask a question
We will never publish or share your email address
Top Jinyu YH12 Review
Given
91%
while driving a
Skoda Rapid TSI
(185/60 R15 T) on
a combination of roads
for 8,500
average
miles
This is an update of my last review of these tyres.

These tyres still remain impressive for their price.
Over an additional 7500 miles these tyres have worn well only 1.5 mm.
This tyre is best in the wet. Its stability and grip in the wet is impressive and in the wet, the braking is at its best. It resists aqua planing well at reasonable speeds and offers great levels of confidence in adverse road conditions.
In the dry the tyres perform pretty good. Dry grip and control is satisfactory and the braking in the dry is pretty decent up to the speed limit.
Wheel spin is limited even under hard acceleration.
These tyres are very quiet and comfortable on the road. And fuel economy is no worse than the original Dunlop's fitted from factory.
These tyres also are also great to apply tyre shine too. For some reason the tyres hold their product longer than other tyre brands, possibly in the chemicals or materials used.

I commute 50 miles to work and back daily @55 - 60 mph, from city centre to the motorway. And for this type of driving at these speeds this tyre is highly recommendable.
And at £49 fitted per corner for my tyre size it's an easy choice.
I rate this tyre 7.5 / 10 and the best used on this vehicle/tyre size to date

(Note: Other tyres used; Dunlop sp 01, kumho ecowing, Michelin energy saver).

Shabby
Latest Jinyu YH12 Reviews
Have you driven on the Jinyu YH12 tyre?
Have YOU got experience with the Jinyu YH12? Help millions of other tyre buyers
I have bought 4 tires, yh 12 since 3years, max 30000kms, since 1year and half : one tire has changed of shape(déformé) : I have changed it with another(goodyear) , and today, the second, his shape become irregular , then exploded on highway, autoroad..and would be changed, while driving they are good, except fuel consumption, even during wet roads........but after 3years 2 tires on 4 are definetely damaged , in addition to danger to explode on road: I advise you to buy other tires, pay more, for more quality and security
not bad at all. not good grip for hard breaking / roadholding is good but it may be under steer in u turns high speed turning.
Given
97%
while driving a
Lexus IS300
(205/55 R16) on
a combination of roads
for 13,000
spirited
miles
After 1 and half years these tires are holding up great. I've driven a bit over 13,000 miles and still very quiet. Traction is still good. I really have no complaints. I'm more surprised than anything. Good tires for the money. I have them on a Lexus IS300.
excellent tire i was really surprised when i saw they were not a popular brand. i cant believe the tire did not slip in the rain, not even at a stop or red light. with the oil on the ground all tires slip when you accelerate. i have burned up many o tire in my day spinning donuts all around town on the road in the dirt and gravel, none have lasted as long as these did. they out performed all of the name brands i ever used. i picked up a used set and tried to drive them into the ground in several burn out competitions but they wont quit, they are balded and i still am able to drive on them without the loss of grip. i will buy jinyu tires again just as soon as they pop i dont think it will be anytime soon good job jinyu keep up the good work no slacking please
Given
86%
while driving a
Vauxhall 1.7 TD estate
(205/55 R16 V) on
a combination of roads
for 6,000
average
miles
2 brand new jinyu yh12 fitted to a 2012 Vauxhall zafira by Arnold Clark cars , which I've just purchased they replaced 2 very worn conti premium contact.(front). The 2 conti 's on the rear will probably last another 18 months.

I've come across this brand of Tyre before & wasn't concerned at all , in fact they are excellent for a budget Tyre , grip in both dry / wet is more than adequate , road noise is very good , handling is positive & ride is good also .

Since February this year we have covered approx 6000 miles & they still look pretty good , probably about 1500 miles of that was towing a 1200kgs caravan too.
All in all a good replacement Tyre I'm looking to replace the rear 2 with the same or the newer yh18 , jinyu is certainly a brand which is vastly under rated .
I fully recommend these tyres , cheap Chinese doesn't always mean bad or inferior................ :-)